Lentil Spinach Soup with green lentils, diced tomatoes and lots of Parmesan cheese. Healthy, easy, low calorie and hearty soup from my Italian neighbour.
Other lentil soup recipes my kids love are red lentil soup, chicken and lentil soup and this vegetarian lentil soup. They love lentils!
The Best Lentil Soup
Lentil and spinach soup recipe with green lentils, diced tomatoes and lots of Parmesan cheese I got from my Italian neighbour back in 2014 and improved upon with a few spices.
This healthy soup is cheap, easy and fast weeknight dinner or all weekend lunch + dinner (make once, eat five times – I am good at that).
Are Lentils Good for You?
With about 30% of their calories from protein, green lentils have the third-highest level of protein of any legume or nut, after soybeans and hemp. Lentils are also full of fiber, folate, vitamin B1 and a good source of iron. They help lower cholesterol levels and reduce the risk of heart disease. Their soluble fiber traps carbohydrates and stabilizes blood sugar levels – an example how complex carbs are healthy vs. simple carbs.
Lentils are also low in calories and dare me to say help with weight loss. 1 cup contains 230 calories but leaves you full and satisfied for long.
Lentil and Spinach Soup Ingredients
Green lentils – Both brown and green lentils retain their shape well, so consistency of the soup won't change. You can use red lentils but because they are split, they tend to almost disintegrate in the soup.
Diced tomatoes – Low sodium are the best. You can also use tomato sauce.
Veggies – Onion, carrot and celery.
Spices and low sodium vegetable broth
Fresh or frozen spinach – We buy 3 boxes at a time and freeze 2. Once you add spinach to hot soup it wilts right away anyways.
FAQ About Lentils
Are lentils same as beans? Lentils are legumes just like beans but are relatively quick and easy to prepare. That's why you rarely see canned lentils in stores.
Do I need to soak lentils? No, just like you don't have to soak split peas, just FYI. It is a good idea to rinse lentils and then they should take about 30 minutes to cook. Other than that lentils do not require soaking like beans which makes them convenient for quick night vegetarian meals like green lentil curry. Or learn how to make Instant Pot lentil soup for completely hands off meal.
How to Make Lentil Spinach Soup
Full recipe card is located below.
Sauté veggies with spices until veggies are translucent and spices fragrant.
Add lentils and sauté for another 3 minutes, stirring here and there.
Add liquids and spices and cook for 30 minutes or until lentils are tender.
Add spinach and garnishes: It is enough to let fresh or frozen spinach wilt in hot soup in order "to cook" it.
Serve hot: Garnished with Parmesan cheese and a side of baby kale salad or crustless spinach quiche for a full meal.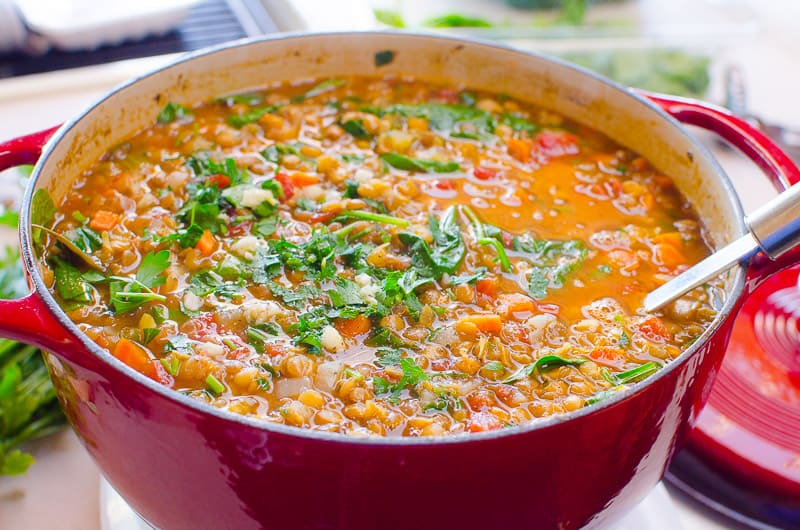 How to Store and Freeze
Storing soup leftovers: Lentil soup will stay fresh for up to 5 days in the fridge. Reheat desired amount by simmering on low in a small pot.
Freezing soup leftovers: Lentil soup freezes beautifully. I usually transfer leftovers to a large glass container leaving some room for soup to expand, and freeze for up to 3 months.
Thawing lentil soup: To thaw, just remove frozen soup from the freezer the night before and defrost in the fridge overnight. Chances are it still will be somewhat frozen after 24 hours, so I put it on a counter for a few hours. And if I remove soup from the freezer in the morning and would like to reheat for lunch, I just thaw it on the counter. It won't spoil.
More Favorite Recipes
Easy lentil casserole
Easy white bean soup
Easy chicken lentil casserole
Pressure cooker black bean soup
Easy white bean salad
Lentil Spinach Soup
Lentil Spinach Soup with green lentils, diced tomatoes and lots of Parmesan cheese. Healthy, easy, low calorie and hearty. Course: Soup and StewCuisine: Italian Prep Time: 10 minutesCook Time: 40 minutes Servings: 8 servings Calories: 269kcal Author: Olena Osipov COOKING MODEPrevent your screen from going dark
Ingredients
2 1/2

cups

green lentils

rinsed & drained

5

garlic cloves

minced & divided

1

large onion

finely chopped

3

large carrots

chopped

2

large celery stalks

chopped

1

tbsp

avocado oil

28

oz

can diced tomatoes

low sodium

12

cups

vegetable broth

low sodium

2

tsp

cumin

ground

2

tsp

oregano

dried

1

tsp

salt

Ground black pepper

to taste

3

bay leaves

3

handfuls of spinach

1/2

cup

parsley

finely chopped

Parmesan cheese

grated (for garnish)
Instructions
Preheat large heavy bottom pot or Dutch oven on medium heat and swirl oil to coat. Add half the garlic and all onion; sauté for 2 minutes, stirring occasionally. Add carrots and celery; sauté for a few more minutes, stirring occasionally.
Add cumin, oregano and lentils; sauté for another 3 minutes.
Add diced tomatoes, vegetable broth, salt, pepper and bay leaves. Cover, bring to a boil and cook for 30 minutes.
Add spinach, remaining garlic, parsley and stir. Serve hot garnished with Parmesan cheese.
Notes
Store: Refrigerate in an airtight container for up to 5 days.
Freeze: Fully cook, cool completely and freeze in an airtight container for up to 3 months. Thaw on a stovetop covered on low.
Nutrition
Serving: 1.5cups | Calories: 269kcal | Carbohydrates: 45g | Protein: 16g | Fat: 3g | Saturated Fat: 1g | Sodium: 341mg | Potassium: 730mg | Fiber: 20g | Sugar: 5g | Vitamin A: 4247IU | Vitamin C: 11mg | Calcium: 66mg | Iron: 5mg