Strawberry smoothie with frozen strawberry, almond milk, banana and a secret ingredient for a nutrition punch. Most kids love strawberries and can make a smoothie on their own. So I told my kids to start making smoothies after school. To fill up their bellies until dinner while we are working. Working from home is a challenge. There is always a distraction. Especially after kids get home from school. Many things go South.
My boys absolutely love our family's staple green smoothie recipe. Like love it! Because it is full of sweet mango. We just turned it into a video last week. Now you have no excuses. 90% your kids will love it too! And now this easy healthy strawberry smoothie is on their list.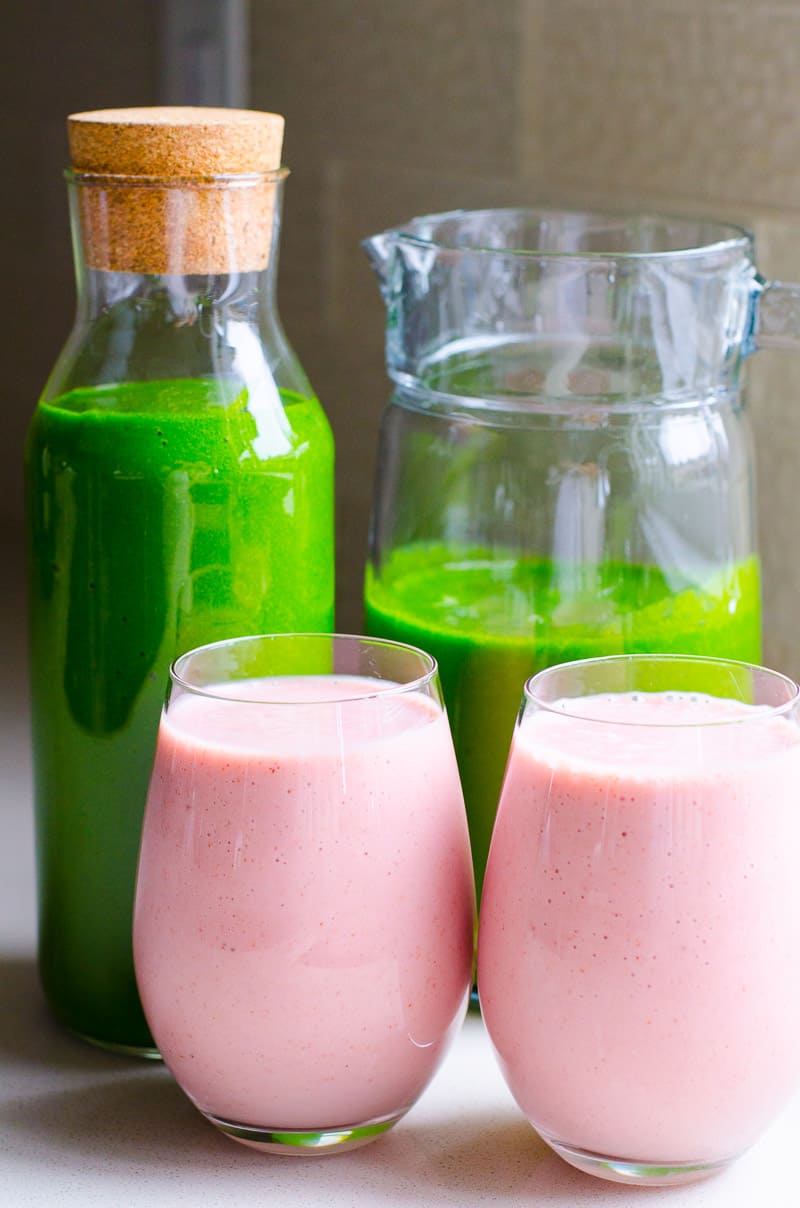 Are Strawberries Good for You?
Strawberries are high in vitamin C, potassium, folic acid and contain antioxidants.
Strawberries may decrease the risk of heart disease, reduce spikes in blood sugar.
Strawberry allergy is very common among children. I was one of them.
Tip: Try to buy only organic strawberries because they are heavily sprayed with pesticides. Strawberries are #1 on Dirty Dozen list. Their skin is very thin, so it absorbs all the chemicals. You just can't wash them off.
Strawberry Smoothie Ingredients:
Entire family experimented with the recipe numerous ways and here is what we put in our smoothie:
Almond milk
Frozen strawberries
Banana
Flaxseed or chia seeds
Yes, we like our strawberry smoothie without yogurt. Keep reading.
What Goes Well with Strawberries in a Smoothie?
You can add a handful of other fruit and vegetables from the list. Don't add too much, especially if fruit is frozen. 1/2 cup should be good.
Banana
Pineapple
Peach
Mango
Spinach
Other Substitutions:
Cow's milk: Substituting almond milk with cow's milk makes smoothie taste more like a milkshake. Our family did not love it in this recipe. And we love ice cream. Not sure why.
Other plant based milk: Use any of your favorite milk instead of almond. For example, rice, soy, coconut, hemp etc. Keep in mind sweetened milk makes smoothie sweeter.
Yogurt: Yogurt adds protein. If you would like to replace milk with mostly yogurt, start with 1 cup yogurt and 1/2 cup almond milk. Adjust consistency with more milk.
Fresh strawberries: If you use fresh strawberries, try to use frozen banana or other frozen fruit. It will help keep the smoothie of thicker consistency rather than flavored juice.
How Many Calories In a Strawberry Smoothie?
This strawberry banana smoothie contains 180 calories, 32 grams of carbs and 15 grams sugar. Please keep in mind this is naturally occuring sugar in fruit. Not added sugar. And these are carbs from fruit, a whole food. Not simple carbs from processed ingredients. This smoothie is full of good for you calories!
How to Make a Good Strawberry Smoothie
Use quality strawberries. Sweet fruit makes all the difference. Costco sells organic frozen strawberries that are good.
Add liquids first. If you add frozen fruit first your blender will struggle.
Don't skip flaxseed or chia seeds. Both prevent smoothie from separating without changing the taste. Not to mention the nutrition punch.
Measure ingredients. Your smoothie will be tasty and will spin in the blender. Add more or less and strawberries will get stuck.
More Fruit Smoothie Recipes You Will Love:
Green smoothie recipe – with frozen mango, kids will drink it!
Raspberry smoothie recipe – with frozen raspberries and avocado.
Blueberry protein breakfast smoothie – complete breakfast on the go.
And may I suggest strawberry spinach salad? I know it's not a smoothie but it's SO GOOD!
Watch How to Make a Strawberry Smoothie
And don't forget to subscribe to my YouTube Channel for weekly cooking videos!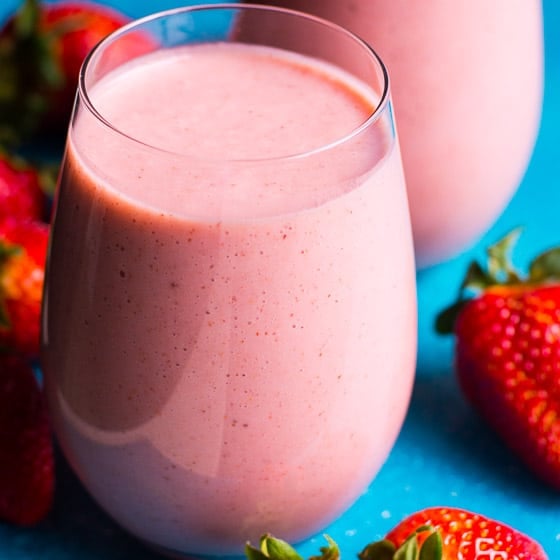 Strawberry Smoothie Recipe
Healthy Strawberry Smoothie Recipe with frozen strawberries, banana and without yogurt. It is easy for kids to make and tastes delicious. Simply the best! Course: DrinksCuisine: North American Prep Time: 3 minutesTotal Time: 3 minutes Servings: 2 smoothies Calories: 183kcal Author: Olena Osipov
Ingredients
1 1/2

cups

almond milk

unsweetened

2

cups

frozen strawberries

1

large ripe banana pieces

2

tbsp

chia seeds or ground flaxseed
Instructions
In a powerful blender, add almond milk, strawberries, banana and flaxseed in the exact order.
Blend until smooth. Serve within a few hours.
Video
Notes
Use any milk. Because of flaxseed (chia) strawberry smoothie holds its consistency well for hours, making it perfect for a brunch.
Nutrition
Calories: 183kcal | Carbohydrates: 30g | Protein: 5g | Fat: 7g | Saturated Fat: 1g | Sodium: 248mg | Potassium: 480mg | Fiber: 9g | Sugar: 14g | Vitamin A: 38IU | Vitamin C: 90mg | Calcium: 324mg | Iron: 2mg